CBD skincare products are everywhere these days. The hemp-derived extract first popped up in everything from oral tinctures to gummy bears, but now it's quickly emerging as the new it ingredient in the skincare industry. Perricone MD was one of the first clinically-proven, trusted skincare brands to recognize and harness CBD benefits in a skincare formulation, and as a result, the brand has stood out as a market leader in the topical CBD category. With others now joining in on the buzz surrounding topical CBD, it's become one curious ingredient.  
So, what exactly will CBD do for your complexion? And how do you know you're getting the best topical CBD for your skincare dollars? Read on for those answers and more.  
What is CBD?
Despite its very recent arrival in skincare products, cannabidiol is not actually new. In fact, its use dates back to ancient civilizations. CBD, short for cannabidiol, has long been used for its medicinal properties, often to soothe sore muscles and treat wounds. The plant-based extract is what's known as a phytocannabinoid, a molecule found in the hemp plant. Unlike another well-known phytocannabinoid, THC (found in marijuana), CBD is non-psychoactive, which means it won't get you high in any application.  
How does it work?
The plant-based phytocannabinoid CBD is thought to support the body's own endocannabinoid system (yes, we make our own naturally-occurring cannabinoids), which is responsible for keeping your body (including your skin) in a happy, healthy and balanced state (a.k.a. homeostasis). If the body's endocannabinoid system is out of balance, so is your complexion. It may be irritated, red, oily, dry, blemish-prone or even itchy as a result. "Topical CBD is thought to help reduce the appearance of redness and irritation, and works to calm the skin down," says Rosalba Martone, Director of Education at Perricone MD. "It's these soothing benefits that make CBD especially good for sensitive skin types," she explains.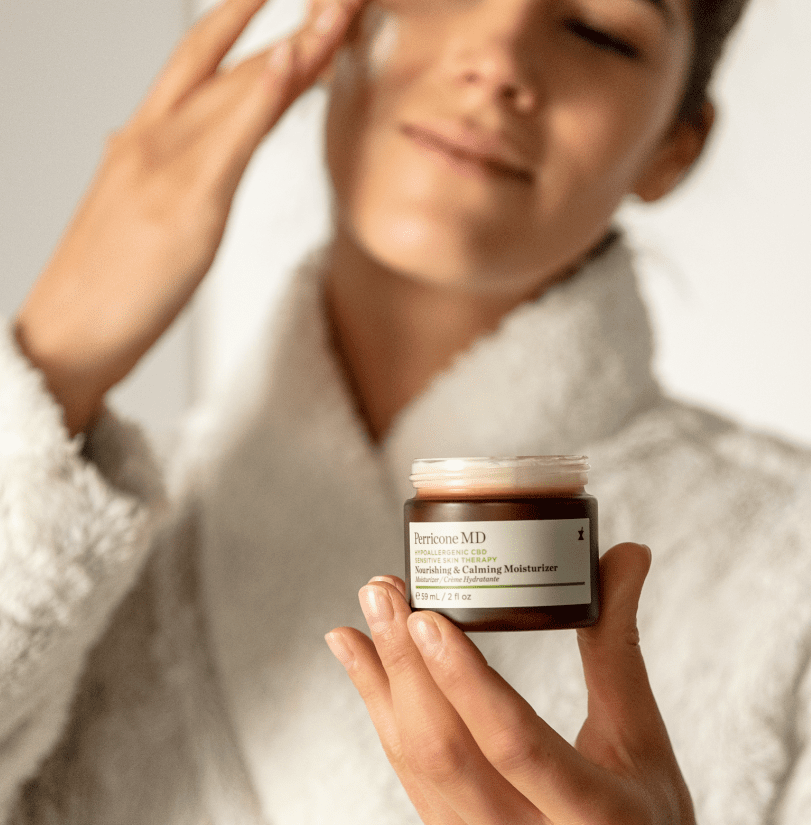 Topical CBD also plays a role in supporting skin's moisture barrier (the outermost layer), helping skin hold onto its hydration. "When your moisture barrier is healthy and intact, your skin may be less sensitive as irritants can't easily seep through the surface layer, and your complexion appears plumper and smoother. Fine lines and wrinkles are far more visible when the skin is dry and dehydrated," says Martone. 
Is all CBD created equally?
It's not, which means CBD skincare products aren't equal, either. There are some differences that consumers should be aware of when seeking out a CBD skincare product. These may require a little detective work when reading skincare product labels. First, there are three different types of CBD used in skincare products: full-spectrum, broad-spectrum and CBD isolate. With full-spectrum CBD, you're not just getting cannabidiol, you're also getting tons of other phytocannabinoids, including THC. "It's basically unfiltered CBD," says Martone. "The main issue with full-spectrum CBD is that we don't know what these other phytocannabinoids do for skin—good or bad," she says. CBD and THC are the most researched of all the phytocannabinoids; we don't know enough about the others.  
With broad-spectrum CBD, the extract has gone through one filtration process. Most of the THC has been removed, but there may still be traces (even if the label claims otherwise), so that's something to consider if you'd rather not slather your skin with a psychoactive substance. It's only with CBD isolate that you're getting 99% pure CBD. Perricone MD uses CBD isolate to ensure you're getting nothing but the benefits of topical CBD.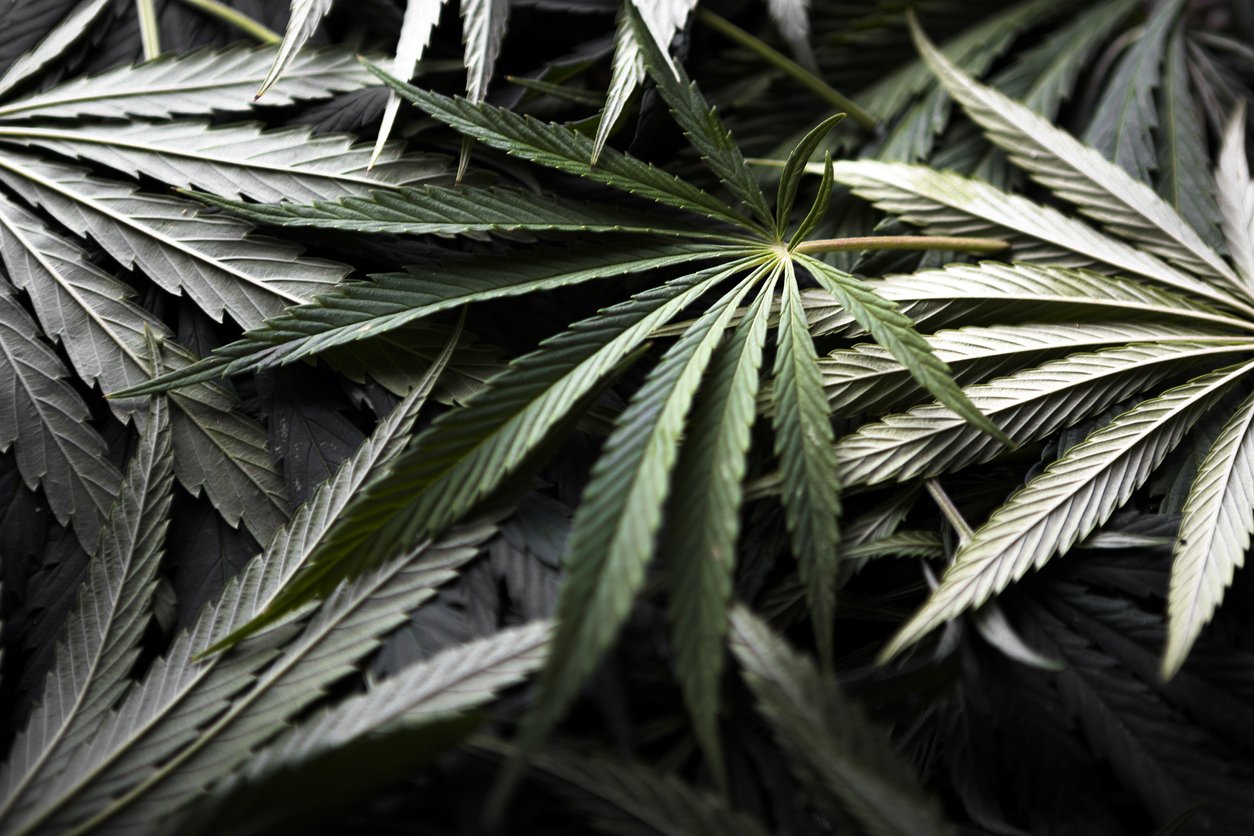 There's also the extraction process to consider—the process by which the CBD is removed from the hemp plant. The cleanest, most effective method is done with Carbon Dioxide (CO2), coupled with high pressure and low temperatures. It's considered a clean method that's more environmentally-friendly and safer than other methods. The CO2 effectively isolates CBD, while maintaining the purity and integrity of the hemp active ingredient. The CBD isolate used by Perricone MD is extracted using this clean and safe CO2 method.  In order to create truly effective products, Perricone MD knows it's important to use the best possible methods in sourcing our ingredients, even if it's not necessarily the easiest or most cost-effective option. CO2 extraction is the most expensive method, so not all brands choose to go this route. As a result, the quality of the final product may suffer.    
Perricone MD's latest CBD innovation
Perricone MD has rolled its vast knowledge of topical CBD into a new collection, Hypoallergenic CBD Sensitive Skin Therapy, that's designed to soothe even the crankiest of complexions. Each of the products in the four-piece line contain 99% pure CBD isolate. The collection is not only ideal for sensitive skin types, but also those who want a truly clean skincare line that incorporates CBD. Plus, it's a clean, calming line that doesn't skimp on efficacy. "These products provide gentle hydrating benefits," says Martone.  The Hypoallergenic CBD Sensitive Skin Therapy line is so gentle, it carries a seal from the National Psoriasis Foundation (NPF), which means these CBD-containing products are suitable for psoriasis, a condition that causes severe sensitive skin.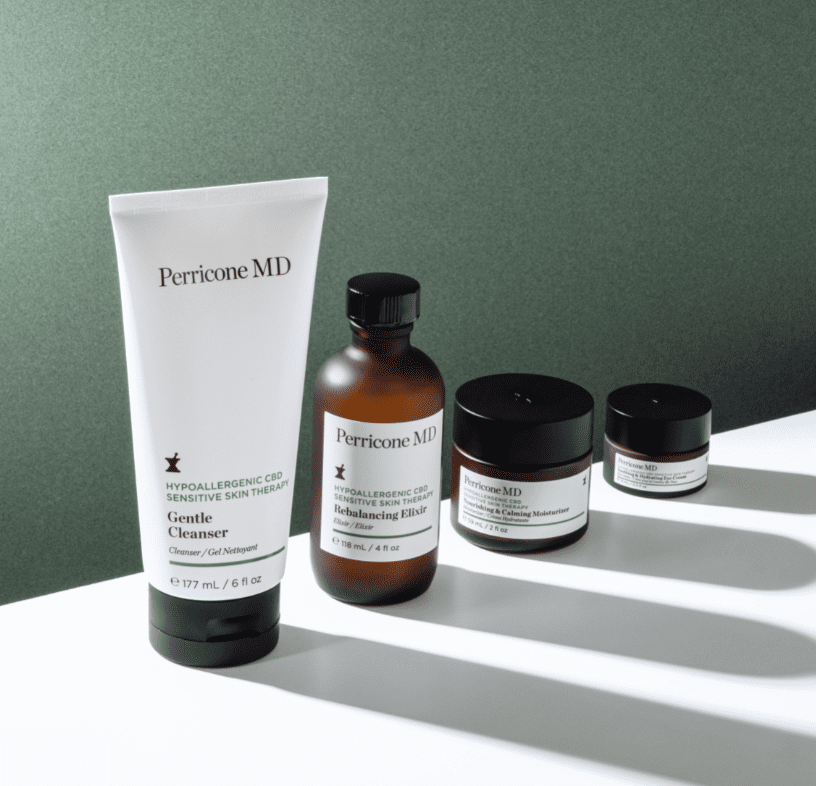 The collection includes the Hypoallergenic CBD Sensitive Skin Therapy Gentle Cleanser, which works into a foam to whisk away dirt, makeup and excess oil, but won't strip away essential moisture. Skin is left soft, not dry and tight, as so many cleansers make sensitive skin feel. The Hypoallergenic CBD Sensitive Skin Therapy Rebalancing Elixir rebalances skin to its ideal pH level, leaving it feeling hydrated and smooth. It's meant to be used after cleansing. The Hypoallergenic CBD Sensitive Skin Therapy Nourishing & Calming Moisturizer is a rich moisturizer that deeply hydrates without making skin feel oily or greasy as it works to visibly reduce redness and irritation. In a consumer study of 102 participants for 28 days, 97% of consumers said their skin felt comforted and not irritated after using it. The Hypoallergenic CBD Sensitive Skin Therapy Soothing & Hydrating Eye Cream nourishes and comforts delicate under-eye skin leaving it feeling nourished. It's designed to be used all around the eye area to smooth and calm skin around the eyes.  
If you're looking for a game-changer for skin, choose topical skincare products that are made with the purest, highest-quality CBD. Perricone MD's Hypoallergenic CBD Sensitive Skin Therapy is formulated with 99% pure CBD and other clinically-proven ingredients to deliver visible results.